Juncus Fuseables Twisted Arrows
Fuseables Twisted Arrows grass is one of the most popular grasses for mixed containers. With its loose, airy feel, its great as a filler.
Space: 12-14"
Height: 18-36"
Width: 12-18"
Exposure: Sun
Colorful, upright growing grass with variegated stripes of white, green, burgundy and hot pink running the length of its blades. It's a great addition to containers and beds near your patio or deck.
Space: 18-24"
Height: 30-36"
Width: 24-30"
Exposure: Sun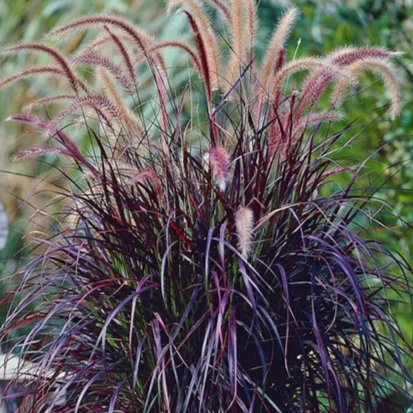 Purple Fountain Grass is a staple in the greenhouse industry. With its bronze-purple foliage and late season purple blooms, it makes a statement in your containers, beds, or landscaping.
Space: 18-24"
Height: 30-36"
Width: 12-24"
Exposure: Sun