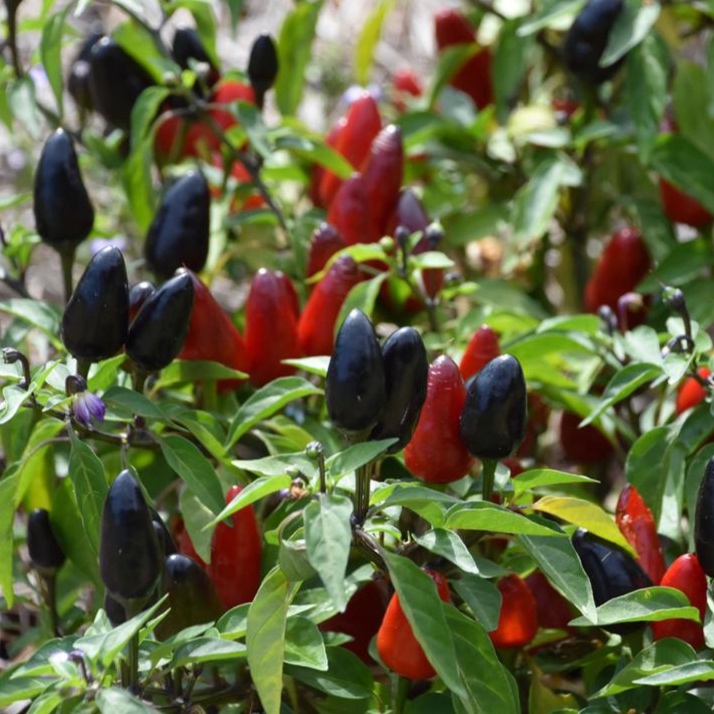 Fruits that start off black and change to a beautiful, head-turning red. Black hawk flowers very early and produces fruits through fall. The constant plant habit and well branched fullness of the dark green, purple black foliage make it an excellent addition to any mixed container.
Space: 7-8"
Height: 10-12"
Width: 16-18"
Exposure: Sun
Bushy, upright, well-branched plants have greenish foliage when young that matures to glossy black with high light and heat. In the landscape, plants develop rounded, shiny black fruit that matures to dark red.
Space: 12-18"
Height: 14-18"
Width: 12-16"
Exposure: Sun
Unique fruit colors and shapes that make it perfect for landscapes, gifts and mixed combinations. A single plant can produce 40 to 50 fruits, displaying the entire color range at once.
Space: 4-8"
Height: 6-8"
Width: 4-6"
Exposure: Sun
Unique, exotic-looking plant for mixed containers and in-ground plantings. Leaves are almost black with flashes of bright purple. The plants are topped with small, round, glossy black fruits.
Space: 18-20"
Height: 13-15"
Width: 19-21"
Exposure: Sun
Masses of small, pointed, lemon yellow and carrot orange fruit that adds a novel touch to the front of landscapes. It provides multiple colors on the same plant.
Space: 12-14"
Height: 9-12"
Width: 14-16"
Exposure: Sun